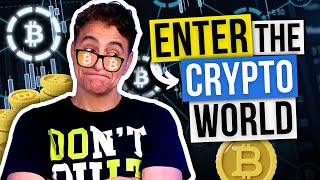 The Complete Cryptocurrency Course Feat. Chris Haroun
213 Lessons (23.5h)
How to Take this Course (B=Beginner & A=Advanced Tracks) & Why Cryptocurrencies?

PART 1.1: FOUNDATIONS: Introduction to Security and Wallets

PART 1.2: FOUNDATIONS: Introduction to Blockchain

PART 1.3: FOUNDATIONS: Introduction to Mining

PART 1.4: FOUNDATIONS: Introduction to 10 Cryptocurrencies

PART 1.5: FOUNDATIONS: Investment Framework Intro & Managing Risk/Avoiding Scams

PART 2: CRYPTOS Intro + Part 2.1 Bitcoin (Pros & Cons+Buying+Investing +Mining)

PART 2.2: Intro to Ethereum (Pros & Cons, Transacting, Investing & Mining)

PART 2.3: Intro to Ripple (Pros & Cons, Transacting, Investing & Mining)

PART 2.4: Intro to Litecoin (Pros & Cons, Transacting, Investing & Mining)

PART 2.5: Intro to Monero (Pros & Cons, Transacting, Investing & Mining)

PART 2.6: Intro to Zcash (Pros & Cons, Transacting, Investing & Mining)

PART 2.7: Intro to Dash (Pros & Cons, Transacting, Investing & Mining)

PART 2.8: Intro to NEO (Pros & Cons, Transacting, Investing & Mining)

PART 2.9: Intro to Cardano (Pros & Cons, Transacting, Investing & Mining)

PART 2.10: Intro to Stellar (Pros & Cons, Transacting, Investing & Mining)

PART 3: WALLETS Intro + Part 3.1 QR Codes (What, Why & How We'll Learn Wallets)

PART 3.2: USB Wallets (Trezor, Ledger Nano S, KeepKey & Digital Bitbox)

PART 3.3: WALLETS Coinbase Wallet

PART 3.4: WALLETS: Electrum Wallet

PART 3.5: WALLETS: Blockchain Wallet

PART 4: EXCHANGES Intro + Part 4.1 GDAX (What, Why & How We'll Learn Exchanges)

PART 4.2: EXCHANGE: Poloniex Exchange

PART 4.3: EXCHANGE: Kraken Exchange

PART 4.4: EXCHANGE: Bittrex Exchange

PART 4.5: EXCHANGE: Gemini Exchange

PART 4.6: EXCHANGE: Binance Exchange

PART 5.1: ICOs: Introduction to Initial Coin Offerings (ICOs)

PART 5.2: ICOs: Doing Research on ICOs & Cryptos Not Mentioned in this Course

PART 6: RESOURCES: Helpful Crypto. Links (More than 150 Great Free Resources)

PART 7.1: PUTTING IT ALL TOGETHER: Creating Your Diversified Crypto Portfolio

Congratulations!!! + Course Conclusion & Advanced Excel Dashboard Customization
Boost Your Cryptocurrency Profits with 20+ Hours of Insight From a Columbia Finance MBA Holder
Chris Haroun

Chris Haroun | Award Winning MBA Professor, Venture Capitalist and Author

4.5/5 Instructor Rating: ★ ★ ★ ★ ★ ★


Chris Haroun is an award-winning business school professor, venture capitalist, MBA graduate from Columbia University and former Goldman Sachs employee. He has raised/managed over $1bn in his career. He also has work experience at hedge fund giant Citadel, consulting firm Accenture, and several firms that he has started, including an investment firm that had a venture capital / private investment in Facebook several years before the Facebook IPO. He is the founder and CEO of Haroun Education Ventures.
Terms
Unredeemed licenses can be returned for store credit within 30 days of purchase. Once your license is redeemed, all sales are final.
All reviews are from verified purchasers collected after purchase.
I'm currently doing this cryptocurrency course and it really is a very good course. Chris Haroun is a talented teacher and motivator. I would highly recommend him and his courses to all. Michael
Sep 1, 2019